Ventura IT has the following real estate domain names for rent on a monthly or yearly basis.  We can also provide you with an attractive website design and Google ranking services (SEO) in addition to the real estate domain name.
These are the perfect domain name for your real estate business.  These real estate domains will rank higher and faster in Google than other domains because they are what's called "exact match" domain names.  This will help your ideal customers find you online.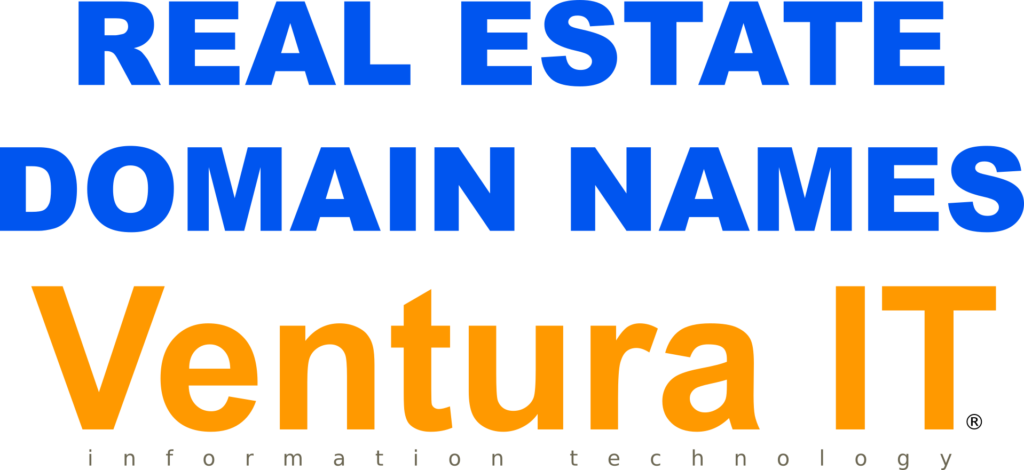 An exact match real estate domain, or EMD, is a real estate domain that is highly relevant to the content of your website and more specifically, exactly matches the keyword a person uses when searching for your content.
Example: newyorkreal.estate
The cost to rent these depends on the domain name, each is different, so contact us if you have interest in any of these real estate domain names.
Real Estate Domain Names For Rent:
venturareal.estate
venturacountyreal.estate
unitedstatesreal.estate
santabarbarareal.estate
santamonicareal.estate
sanjosereal.estate
palosverdesreal.estate
oxnardreal.estate  (allready ranking in top 50 for some local keywords)
newyorkreal.estate
nevadareal.estate
mauireal.estate
montecitoreal.estate
manhattanreal.estate
laketahoereal.estate
californiareal.estate
yellowstonereal.estate
washingtonreal.estate
tahoecityreal.estate
southerncalifornianreal.estate
southerncaliforniareal.estate
sedonareal.estate
sacramentoreal.estate
oregonreal.estate
ojaireal.estate
northerncaliforniareal.estate
newportreal.estate
northerncalifornianreal.estate
mexicoreal.estate
mexicanreal.estate
manhattanbeachreal.estate
louisianareal.estate
lanaireal.estate
kirkwoodreal.estate
jacksonholereal.estate
jacksonreal.estate
islandreal.estate
homewoodreal.estate
hawaiianreal.estate
grandcanyonreal.estate
fijireal.estate
farmreal.estate
europeanreal.estate
blackhawkreal.estate
beachreal.estate
belairreal.estate
bahamasreal.estate
asianreal.estate
thehamptonsreal.estate
easthamptonreal.estate
londonreal.estate
southamptonreal.estate
chelseareal.estate
tribecareal.estate
tokyoreal.estate
romereal.estate
sohoreal.estate
moscowreal.estate
parisreal.estate
milanreal.estate
madridreal.estate
hongkongreal.estate
buckinghamshirereal.estate
frenchreal.estate
highlandparkreal.estate
taosreal.estate
westlakereal.estate
stockholmreal.estate
stpetersburgreal.estate
saopauloreal.estate
riodejaneiroreal.estate
osloreal.estate
calabasasreal.estate
buenosairesreal.estate
bahiareal.estate
zurichreal.estate
unitedarabemiratesreal.estate
uaereal.estate
theunitedarabemiratesreal.estate
singaporereal.estate
seoulreal.estate
shanghaireal.estate
munichreal.estate
mazatlanreal.estate
mexicocityreal.estate
luxembourgreal.estate
kualalumpurreal.estate
bermudareal.estate
bangkokreal.estate
rodeodrreal.estate
rodeodrivereal.estate
montanareal.estate
orangereal.estate
orangecaliforniareal.estate
orangecountyreal.estate
lagunabeachreal.estate
brusselsreal.estate
pasadenareal.estate
belgravesquarereal.estate
belgravereal.estate
Terms of Service Contract: You will not gain ownership of domain name trademarks by renting one or more of these real estate domains.  The trademark and copyright of each domain name remains the sole property of Ventura IT. You do not become the owner or registrant of the domain name by renting. The owner and registrant remains as Ventura IT. If a rental agreement is made Ventura IT may grant a limited use of the real estate domain name.  This limited use does not convey ownership or other rights, trademark, or copyright to the domain name.